Culinary journey around the world
Culinary journey
12th january until 22nd february 2023 Swiss hash browns specialities
Delicious hash browns specialities for every taste. In addition to classics such as the Berner or the one with Zurich veal strips, you will also find unusual dishes on our menu such as the Raclette hash browns with cornichons, silver onions and raclette cheese. For our vegetarians we have our fine Mamma Mia hash browns with onions, garlic, tomatoes, spinach leaves and Greek olives, gratinated with feta cheese.
23rd february until 12th april 2023 Escalope from all over the world
From Swiss Cordon Bleu to Italian Saltimbocca and Chinese style escalope; there is definitely something for every taste. Choose to which part of the world you would like to be taken.
13th april until 10th mai 2023 European spring awakening
Wild garlic, asparagus, cherry tomatoes and spring potatoes; all these wonderful spring messengers are packed into our fine menus. Enjoy the warming sun on your skin with a glass of wine or a seasonal beer on our terrace.
11th mai until 07th june 2023 Specialities from the South Seas
Fine sandy beach, palm trees, turquoise water, sun... and the right food to match. We are happy to spoil you with our exotic dishes from our south sea menu. For example, how about a "Koli Leo Leo" tilapia fillet grilled with passion fruit chilli butter on pineapple potatoes?
08th june until 06th september 2023 Swiss summer hits
On hot summer days, our light dishes like a fitness plate or a Greek salad turn out to be just right for you. On our summer menu you will also find delightfully refreshing white wines. Perfect to round off a warm summer evening.
07th september until 15th november 2023 Wildlife specialities from europe
Who doesn't love them, the classic wildlife dishes in autumn? When the days are getting shorter and colder again, it's the perfect time to treat yourself to a hearty meal again. You can hardly say no to a fine venison escalope with homemade spaetzle and the well-known venison side dishes, can you?
16th november until 07th january Festive dishes from all over the world
Around Christmas, things get quite festive with us at the Florida. Treat your loved ones to our extraordinary menus from our festive menu. A fine soup for starters and for the main course delicacies from all over the world.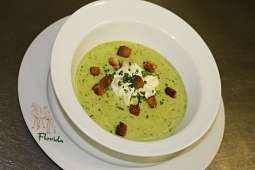 Baerlauch soup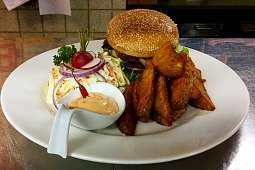 Regio Burger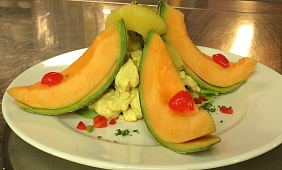 Chicken salad with melon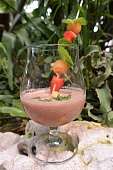 Dessert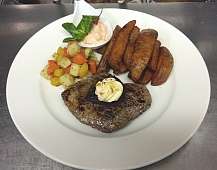 Bison