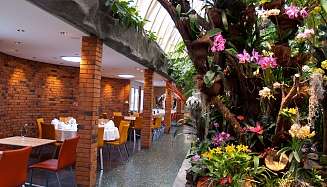 Our unique tropical restaurant is right on the shores of an idyllic forest pond with flamingos and a variety of aquatic birds. In sunny weather, you should be able to see a beautiful rainbow in the shimmer of the fountain. The splashing of the water wheel and the waterfall create a peaceful atmosphere. In our restaurant, you can sit under a palm tree and enjoy hot and well-prepared meals at advantageous rates. We have a rich selection - not only of exquisite wines, but also of popular Florida house specialties and seasonal dishes for every budget.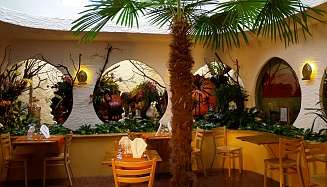 As a couple, you can dream of faraway places at the romantic and charming small tables. Here we will spoil you with dishes for every budget from our tropical plant restaurant's menu.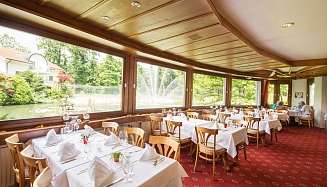 Our specialty restaurant with its white tablecloths charms our guests with its beautiful view of our idyllic forest pond. It also stands out thanks to its varied specialty menu. In the Seestube, you can enjoy a splendid lunch or dinner. Make yourself at home in our lovingly decorated Seestube.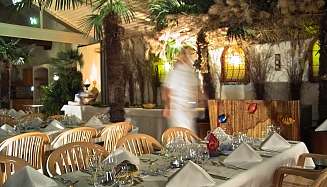 From our conservatory, you have an expansive view of our idyllic forest pond. Here we will spoil you with dishes for every budget from our tropical plant restaurant's menu. Open in the summer and decorated with palm trees in the winter, it also makes for the perfect setting for your business or family event with up to 100 people. In the summer, the clearing by the forest pond is the perfect spot for an appetizer beforehand.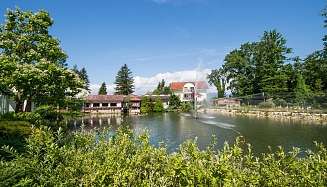 Our forest pond lies on the outskirts of the idyllic nature reserve with a meadowland of national importance. It is home to many different species of ornamental ducks, flamingos and other migratory birds. With a little luck you can even observe the deer that like to graze in the adjacent clearing. Here, on the water's edge between our conservatory and our miniature golf course, the shores of our forest pond are the ideal spot for drinks receptions, barbecue parties, banquets for 30 or more people and other large-scale events.